Type your research (product, recipe, blog...)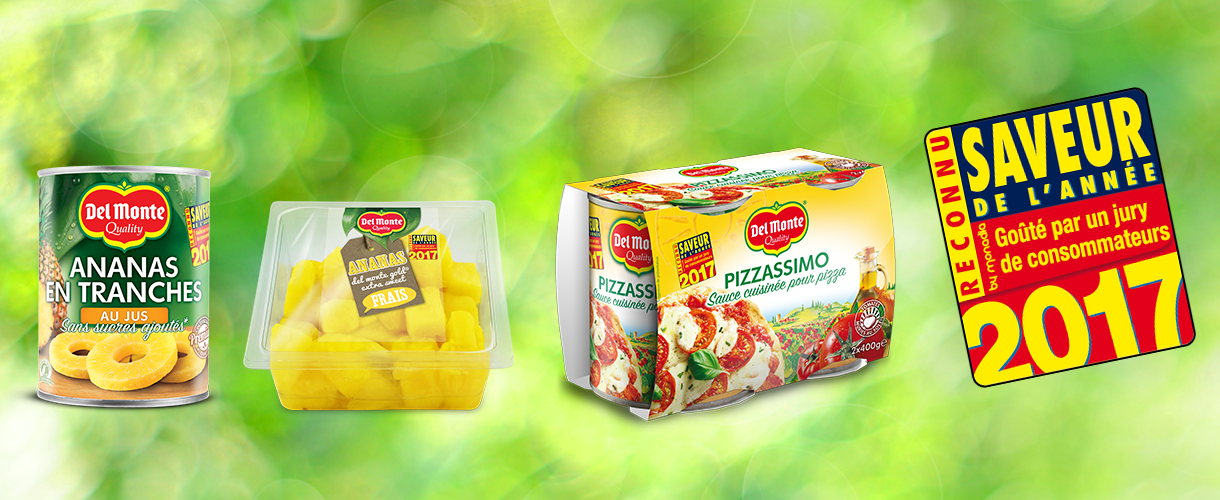 01/03/2017
Del Monte products elected "Flavours of the Year 2017" in France
Del Monte is pleased to announce that 3 products received the prestigious distinction "Flavour of the Year" 2017 in France: Fresh Cut Del Monte Gold® Pineapple, Del Monte® Pineapple in can and Del Monte® Pizzassimo.
"Flavour of the Year" are designed to validate the quality taste of products by subjecting them to a taste assessment. During a rigorous tasting laboratory for sensory evaluation, each product is evaluated by a jury of independent consumers.
2 Del Monte fresh cut formats were blindly tasted: the whole pineapple cylinder received some glorious comments and was described as "Very good taste, ideally sweet, beautiful color, pleasant odor, juicy as it should", "The product immediately makes you want to eat it.". The Del Monte fresh cut pineapple chunks received observations like "Excellent. Sweet, crisp, a color of the sun, fresh, you can feel the taste of pineapple.", "The pineapple looks fresh as a pineapple that has just been prepared, very nice in every way."

The Fresh Cut Del Monte Gold® Pineapple are part of Del Monte® wide range of Fresh Cut

, including varieties like Pineapple and Coconut, Pomegranate, Mango Slices etc...
Del Monte® Pineapples in can were blindly tasted, and were described by consumers as "Very good, delicious and very juicy. Good taste of fresh pineapple, tender, not too sweet.", "Very good product, beautiful color, very crisp and very fruity, correct size of pieces."
Del Monte® Pizzassimo was described by consumers as "Beautiful red color with tomato pieces, good flavor, fairly thick texture.", "Excellent sauce, very thick, pretty color, very tasty, well seasoned.", "Intense odor of fresh tomato, good acidity, good thickness, natural flavor of tomato."
Del Monte® Pizzassimo is a delicious rich flavor sauce, cooked and designed to serve as basis for the preparation of all kinds of pizzas. It is made with of tomato pulp, oil, basil, oregano and marjoram.
For more information about "Saveurs de l'Année", please visit: https://www.saveurdelannee.com/.