Type your research (product, recipe, blog...)

Crab Cakes With Pineapple
Ingredients:
• 1/2 pound fresh crabmeat or 2 (6 oz.) cans crabmeat, drained
• 1/2 cup fresh whole wheat breadcrumbs
• 1 egg, beaten
• 2 Del Monte® green onions, chopped
• 2 tbsp nonfat mayonnaise
• 1 tbsp chopped fresh parsley
• 1/2 tsp Worcestershire sauce
• Dash hot pepper
• Black pepper, to taste
• 2 cups diced Del Monte® Gold® Extra Sweet Pineapple
• 1/2 cup chopped Del Monte® green onion
• 1/4 cup chopped fresh cilantro
• 1 tbsp fresh Del Monte® lemon juice

Preparation:
1)For the Green Onion Crab Cakes, in a medium bowl, gently stir together all ingredients except black pepper. Season to taste with black pepper. Cover and chill 15 minutes. 2)Form crab mixture into 8 equal-sized patties. Coat large nonstick skillet with vegetable cooking spray and set over medium-high heat. 3)Saut crab cakes, turning once, until golden brown on both sides, about 3 minutes per side. Serve with Del Monte Gold Extra Sweet Pineapple Salsa. 4)For the Del Monte Gold Extra Sweet Pineapple Salsa: combine first five ingredients in medium bowl; toss to blend. Season with salt and pepper.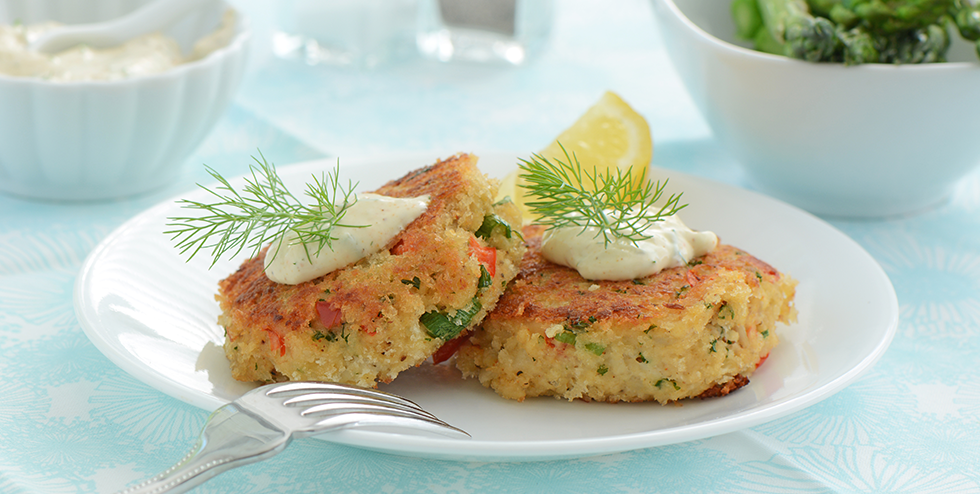 Our Selection