Type your research (product, recipe, blog...)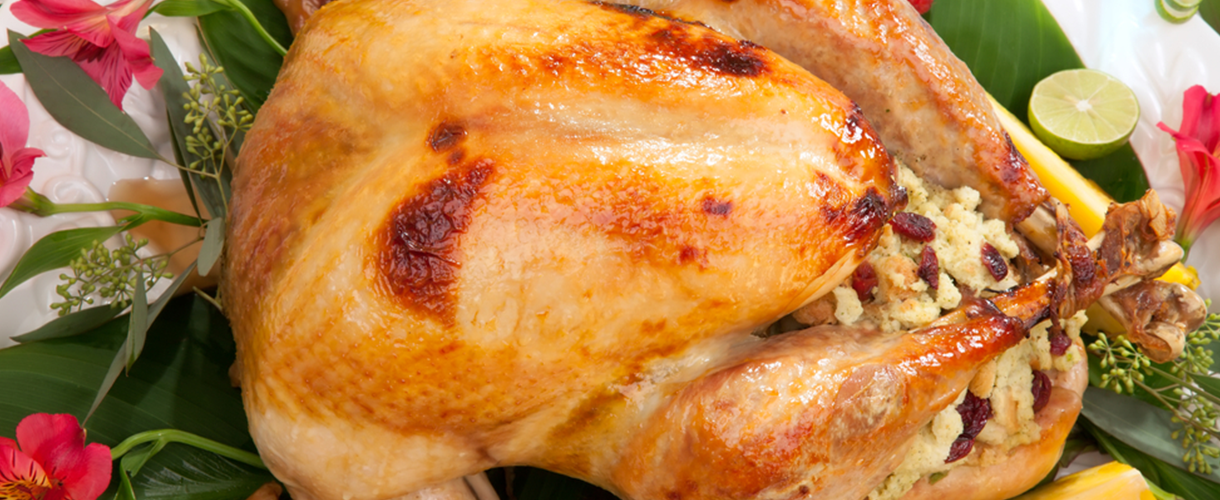 Ingredients:
• 1 turkey (3 to 5kg)
• 1 Del Monte Gold® Pineapple
• 1 cup (230 ml) dry white wine
• 1⁄4 cup (85g) honey
• 1⁄4 cup (60ml) soy sauce
• 1 teaspoon ginger, ground
• 1 teaspoon paprika
• 2 cloves large garlic, finely chopped
• 1 tablespoon cornstarch
• 1⁄4 cup (60ml) water

Preparation:
1)Preheat the oven at 160°C. Wash the turkey and dry the skin. Place turkey, skin side up, on rack in shallow roasting pan. Insert meat thermometer so tip is in thickest part of meat and does not touch bone. Roast uncovered 1 hour. 2)In the meantime, cut the Del Monte Gold Pineapple in 8 slices then plunge them in the mixture made of wine, honey, soy sauce, gingerroot, paprika and garlic. Arrange pineapple on rack around turkey. Brush turkey and pineapple with wine mixture. Roast uncovered about 1 hour longer, until thermometer reaches 80°C. 3)Pour pan drippings into measuring cup; skim off any excess fat. Add enough water to drippings to measure 1 cup (around 230 ml). Heat drippings to boiling in saucepan. Mix cornstarch and cold water; stir into drippings. Boil and stir 1 minute. Serve with turkey.
Our Selection