Type your research (product, recipe, blog...)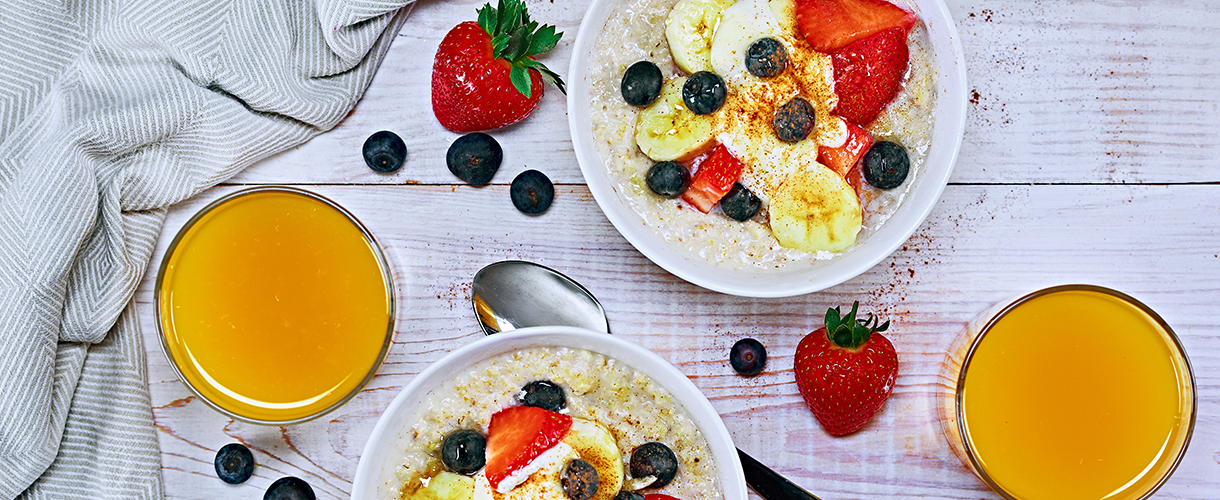 Ingredients:
• 500ml water
• 500ml Del Monte® Coconut Milk
• 10 allspice berries
• 1tsp ground cinnamon
• 1tsp freshly grated nutmeg
• Pinch of salt
• 175g porridge oats
• Milk or cream, to taste
• 50g mixed dried tropical fruit
• 2 Del Monte® Bananas, chopped
• 1 x 435g tin Del Monte® Crushed or Chunks Pineapple, drained or Fresh Pineapple chunks
• 50g mixed unsalted nuts, chopped
• 2tbsp soft brown sugar

Preparation:
1)Mix the water and Del Monte® Coconut Milk in a pan with the allspice berries. Heat gently until simmering, then remove from the heat and put to one side to infuse for 10 minutes. 2)Remove the allspice berries and add the cinnamon and nutmeg. Season with salt. Stir well. 3)Add the porridge oats, put back on the heat, then bring to the boil. Reduce to a simmer again and stir for another five minutes. 4)Put the porridge into four serving bowls. Add milk or cream if you like, then the dried fruit, Del Monte® Fresh Bananas and a spoonful of Del Monte® Fresh or Canned Pineapple. Tip: For a more exotic and refreshing taste, you can also try with Del Monte® Frozen Fruit range! 5)Finally, top with nuts, sprinkle with brown sugar and serve for the perfect start to the day!