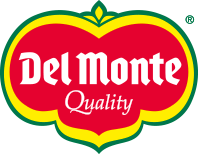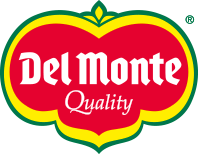 Type your research (product, recipe, blog...)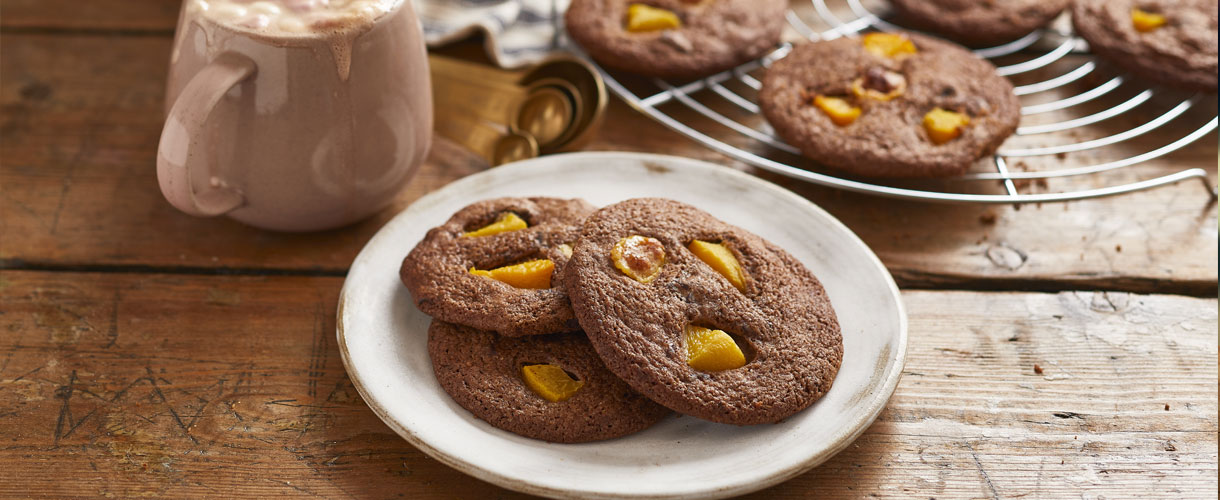 Peach and Marzipan Chocolate Chunk Biscuits
Ingredients:
• 100g soft butter
• 90g soft dark brown sugar
• 50g granulated sugar
• 1 tbsp cocoa powder
• 1 tsp vanilla extract
• 150g plain flour
• ¼ tsp salt
• ½ tsp bicarbonate of soda
• 1 medium egg
• 100g milk chocolate, chopped
• 100g dark chocolate, chopped
• 20g Marzipan, cut into 16 small chunks
• 1 can (415g) Del Monte® Peach Slices in Juice, drained, each cut into 3

Preparation:
1)Preheat the oven to 190°C/gas 5 and line two baking trays with parchment. Put the soft butter into a stand mixer with both the sugars, cocoa and vanilla and beat until soft and fluffy. In a separate bowl combine the flour, salt and bicarb. Beat the egg in to the butter mix, then lightly sieve in the flour mixture too. Add the milk and dark chocolate and beat in again, lightly. 2)Scoop out portions of dough (about 40g) and roll into balls, then flatten each one and place on the baking sheets, with plenty of space between them. Press the marzipan and the peach pieces into the top. You will have to really squeeze these extras on, but don't worry, everything spreads in the oven! 3)Bake in the oven until the biscuits have nicely spread (about 12 minutes). Leave to cool completely on the trays before serving 4)Top tip: To get perfectly round biscuits, once you have removed them from the oven, quickly put a large cutter over each biscuit and spin it around.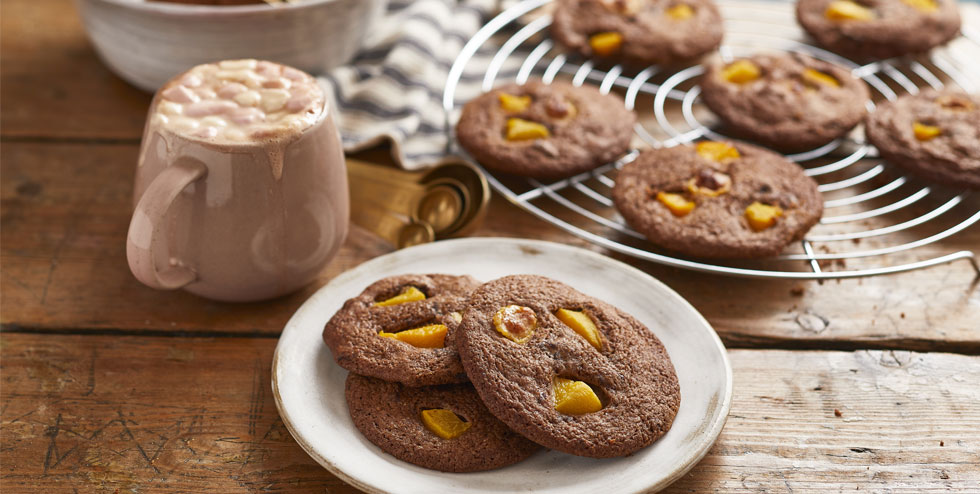 Our Selection